Affordable Hair Transplant & Hair Restoration In Lakewood, Ohio
Click on Image
Below to see Video
Different Forms of Alopecia: The Causes of Hair Loss
There are many types of hair loss. The most common cause is genetic hair loss inherited from a a male or female relative on either side of the family. Other causes include disease, stress, trauma, diet or hormones. Whatever the reason, hair loss can effect a person's overall self esteem so it's important to identify the cause and treat it accordingly. If you would like to come in for a free consultation, the doctor would be more than happy to diagnose your condition.
Androgenetic Alopecia (pattern baldness)
80 million men and women suffer from genetic hair loss which is called androgenetic alopecia. Androgenetic alopecia is hereditary baldness passed down from male or female relatives with balding or thinning hair. Male pattern baldness can be prevented in the vertex and crown with a DHT blocker. DHT blocker does not work in the frontal hair line and is not for women or children. The most effective permanent solution for androgenetic alopecia is hair transplantation.
Alopecia Areata (auto immune disorders)
Some diseases cause hair to fall out when white blood cells attack hair follicles. Some autoimmune disorders that cause alopecia areata include thyroid disease, lupus, vitiligo, ulcerative colitis and rheumatoid arthritis. With alopecia areata hair can fall out and re-grow again and again.
Cicatricial Alopecia (scarring)
Cicatricial alopecia is a rare form of hair loss. In hair loss caused by cicatricial alopecia, inflammation and scarring destroy the delicate hair follicles. Scars can occur from burns or injuries and it may also be caused from skin disorders such as lichen planus, fungal infections or lupus erythematosus.
Diffuse Pattern Alopecia (DPA)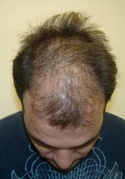 When the frontal hairline remains in tact but hair becomes thin in an even pattern everywhere except the safe zone which is the DHT resistant area on the sides and back of the head then diffuse pattern alopecia is present.
Diffuse Unpatterned Allopecia (DUPA)
When hair loss is evenly thin throughout the entire head, even in the safe zone, this is called diffuse unpatterned alopecia. Those with diffuse unpatterned allopecia do not have good donor hair and should not receive a hair transplant. To be sure of your situation, it is advisable to make a complimentary appointment to see Dr. Bolton for an accurate diagnosis.
Dihydrotestosterone (DHT)
A hormone called dihydrotestosterone or DHT is the cause of pattern baldness in both men and women. DHT is an androgen, a hormone responsible for the development of sexual characteristics. This hormone is produced more rapidly as a person ages and is created when testosterone and an enzyme called Type II 5-alpha Reductase are synthesized. For those who are genetically predispositioned to be affected by DHT, hair miniaturization can occur because of mucus buildup in the hair follicles.
Female Pattern Hair loss (androgenetic alopecia)
In female pattern baldness the frontal hairline often stays in tact while thinning or diffusing occurs throughout the rest of the head. Female pattern baldness is genetically inherited for those susceptible to DHT.
Male Pattern Baldness (androgenetic alopecia)
Male pattern baldness is the number one cause of hair loss in the United States. Passed down through genetics, male pattern baldness can be inherited through both the mother and the father. Typical male pattern baldness begins with a receding hairline or thinning crown that continues to thin over time until hair is very thin or completely gone everywhere except the safe zone. The safe zone is the horseshoe area on the sides and back of the head where hair follicles are resistant to DHT, a hormone that causes hair loss.
Phases of Hair Growth
anagen phase (growth phase)


A new hair grows from a hair follicle beneath the surface of the skin. The average hair will grow 1/2 inch (1cm) per month from 2 to 8 years.

catagen phase (transitional phase)

telogen phase (resting phase)
telogen effluvium (stress or shock)
Telogen effluvium is temporary hair loss due to stress or "shock" caused by physical or emotional conditions. Hair goes into a resting phase, growth is temporarily stopped, and hair falls out in clumps or patches. A wide range of causes can be attributed to telgen effluvium such as unusual weight loss, diet, disease, medicine side effects, emotional trauma, or nutritional deficiencies. If the causes are eliminated, hair usually starts to grow again within 6 to 9 months.

traction alopecia (scars from pulling hair too tightly)
When hair is pulled too tightly and the scalp becomes scarred, traction alopecia can occur. If the pulling is stopped soon enough the situation can be corrected otherwise scarring and hair loss may become permanent. Hair styles to be cautious about are pony and pig tails, braids and dreadlocks.
trichotillomania (hair pulling disorder)
Hair pulling disorder is a mental illness where people compulsively pull out their own hair and often hide the behavior with hats or wigs.
COMPILATION GALLERY VIDEOS
Jul 3, 2020

My experience with Dr Bolton and Josh has been amazing. I came to Dr Bolton as a very skeptical patient. After years of been scammed by one company after another promising that they "had the cure", I honestly didn't think anything would work. Dr Bolton and Josh were very upfront and honest with me from the very beginning. The surgery and...

Jul 3, 2020

I loved my experience with GHT! I got the (FUT) "Max Harvest Plus" because I was a (Norwood 6). I am completely blown away by the results which changed my appearance and gave me more confidence. Dr. Bolton, Josh, and the entire GHT team are very friendly and professional. There was no pain during the procedure and the whole thing was over...

Jul 3, 2020

Jul 3, 2020

Had my procedure done about 8 months ago with dr bolton and his staff. Absolutely INCREDIBLE results. They are true artists and place every hair with a purpose. My results look so natural that my own mother and father didnt even notice! I would HIGHLY recommend these guys to anyone who is unsure about getting a transplant. True proffessionals,...

Jul 3, 2020

My experience with Josh, Dr. Bolton and his whole team were amazing. I had a max harvest about a year and a half ago and I am so thrilled with the results. Recovery was easy and the hair just grew. Even after the surgery , Dr Bolton called me to make sure everything was fine. I would highly recommend Dr Bolton to anyone who is considering a hair...

Mar 16, 2020

I almost considered going to a locally renowned HT Dr since Florida is many states away and I didn't want to fly and sit in a hotel for a few days post op, but after speaking with Josh and FaceTiming with Dr Bolton I felt more comfortable and informed vs my in person visits with the local option. I now have had two procedures with Dr Bolton and...

Mar 5, 2020

To Dr. Brett Bolton, his technicians, and Mike Anticoli.. Thankyou for all you do. firstly, many years ago i had a prior temple area procedure done in chicago. circa 2000. it was dissapointing to say the least, poor aesthetic result... well, after intensive research i found GHT. Mike Anticoli was my rock through the decision process. he even made...

Feb 23, 2020

Dr. Bolton did an amazing job! I did my research and found Dr. Bolton and am so glad I did. I have had 2 procedures done by him. The first restored my hairline and the second I wanted for more density. Thank you Dr. Bolton! Also thank you to Mike Anticoli for his help throughout the entire process. He stayed in touch with me before and after my...


22 YEARS EXCLUSIVELY DEDICATED TO HAIR TRANSPLANTS WITH UNSURPASSED RESULTS
Excellent