Hair Transplants Equipment - Unique Advanced Hair Transplant Techniques by Dr. Brett Bolton
Click on Image
Below to see Video
State of the art
Your hair is our priority. That's why our technology is state-of-the-art so we can deliver the best results for our patients.
Spotlight on Equipment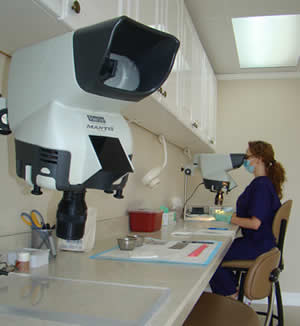 There are several major components that make a hair transplant surgery successful. There are however, two key features used at Great Hair Transplants that are important to feature.
State-of-the-Art Microscopes
It's imperative that each graft is precisely cut to insure the health of the hairs and the success of the transplant. That's why our technicians use microscopes to prepare hair grafts for the restoration process. Each graft is carefully separated under strong magnification to insure that the hair follicle roots are not nipped or damaged in any way. Carefully separating the grafts also guarantee that there is the right amount of tissue surrounding each delicate hair follicle.
Infrared Coagulator Facilitates Better Cleaner Closure
Dr. Bolton uses a Redfield Infrared Coagulator which is a special cautery machine that uses infrared light technology to seal vessels and control bleeding without causing surrounding structural damage to the skin or follicles.
A regular cauterization machine alone can cause burning of the skin and destruction of the hair follicles which affects the overall outcome of the scar and transplant.
By choosing to use an infrared coagulator, Dr. Bolton ensures the very best closures for his patients by keeping the surrounding tissues and vessels in tact which makes a huge difference in the success of a better closure of the wound edges.
COMPILATION GALLERY VIDEOS
Dec 9, 2019

I had a great experience with Dr. Bolton. I've been a hairdresser for many years, and I have worked with the best people in the industry. After years of research I found Dr. Bolton. Who gave me a hair transplant, and I cannot tell you how much he's changed my life. He has made me look ten years younger. He is the best Dr. in the industry, if...

Dec 6, 2019

Excellent results! In my first procedure I had an amazing outcome. I feel more confident and comfortable with my self. My friends and family think so too! For years I've been suffered because I didn't have hair and had a very low self esteem but thanks to Dr. Bolton and Michael Anticoli I've felt so much better. I'm super excited to go for my...

Dec 6, 2019

I went to Dr Bolton after getting 1800 fue and absolutely no results almost ready to give up I contacted Michael Anticoli who works with Doc and decided to get a max harvest from Dr Bolton Michael made my experience in Florida great and Doctor Bolton did a beautiful transplant on my crown and now I can walk out of a room confident of my results...

Dec 6, 2019

Dec 6, 2019

Its been over a year since visiting Dr Bolton and I cannot say enough good things about the experience with Great Hair Transplants. From start to finish the experience was 5 star. Mike is the guide version of Dr Bolton. He has the same attention to detail. Mike ensures everything is taken care. It felt like a pampered at a day at the spa rather...

Nov 28, 2019

I recommend Dr Bolton and his staff, awesome experience, Mike is always available to answer any questions always guided me before and after procedure. procedure was explained, Dr.Bolton and his staff very professional made a real bonding experience, procedure was quick, painless and I am having great results!!! Recommend 100%

Nov 28, 2019

Dr. Brett Bolton and his team including Josh are extremely professional.The procedure went flawlessly also was fed lunch and was entertained with a movie on the big screen tv.The positioning of the hair follicles were precise and were anatomically correct for my facial features and the donor area is invisible.Looking forward to my next visit!!


22 YEARS EXCLUSIVELY DEDICATED TO HAIR TRANSPLANTS WITH UNSURPASSED RESULTS
Excellent