Hair Transplants Equipment - Unique Advanced Hair Transplant Techniques by Dr. Brett Bolton
Click on Image
Below to see Video
State of the art
Your hair is our priority. That's why our technology is state-of-the-art so we can deliver the best results for our patients.
Spotlight on Equipment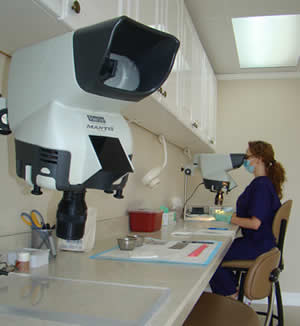 There are several major components that make a hair transplant surgery successful. There are however, two key features used at Great Hair Transplants that are important to feature.
State-of-the-Art Microscopes
It's imperative that each graft is precisely cut to insure the health of the hairs and the success of the transplant. That's why our technicians use microscopes to prepare hair grafts for the restoration process. Each graft is carefully separated under strong magnification to insure that the hair follicle roots are not nipped or damaged in any way. Carefully separating the grafts also guarantee that there is the right amount of tissue surrounding each delicate hair follicle.
Infrared Coagulator Facilitates Better Cleaner Closure
Dr. Bolton uses a Redfield Infrared Coagulator which is a special cautery machine that uses infrared light technology to seal vessels and control bleeding without causing surrounding structural damage to the skin or follicles.
A regular cauterization machine alone can cause burning of the skin and destruction of the hair follicles which affects the overall outcome of the scar and transplant.
By choosing to use an infrared coagulator, Dr. Bolton ensures the very best closures for his patients by keeping the surrounding tissues and vessels in tact which makes a huge difference in the success of a better closure of the wound edges.
COMPILATION GALLERY VIDEOS
Mar 16, 2020

I almost considered going to a locally renowned HT Dr since Florida is many states away and I didn't want to fly and sit in a hotel for a few days post op, but after speaking with Josh and FaceTiming with Dr Bolton I felt more comfortable and informed vs my in person visits with the local option. I now have had two procedures with Dr Bolton and...

Mar 5, 2020

To Dr. Brett Bolton, his technicians, and Mike Anticoli.. Thankyou for all you do. firstly, many years ago i had a prior temple area procedure done in chicago. circa 2000. it was dissapointing to say the least, poor aesthetic result... well, after intensive research i found GHT. Mike Anticoli was my rock through the decision process. he even made...

Feb 23, 2020

Dr. Bolton did an amazing job! I did my research and found Dr. Bolton and am so glad I did. I have had 2 procedures done by him. The first restored my hairline and the second I wanted for more density. Thank you Dr. Bolton! Also thank you to Mike Anticoli for his help throughout the entire process. He stayed in touch with me before and after my...

Feb 15, 2020

I can't believe how much Dr Bolton has changed my life. Josh brought me in and explained everything and how this can improve my life Him and his team are the best in the there field. If you're looking for a change don't go anywhere else - give Josh a call and go see Dr Bolton.

Feb 14, 2020

Dr. Brett Bolton is a total Genius Five years ago I went in for my first hair transplant with Dr. Bolton, and had great success. I planned on returning the following year to continue but do to new employment I was unable to continue. Now, 5 years later, I returned to Dr. Bolton with even better success. Aside from experiencing only a very small...

Feb 12, 2020

I heard about Dr Bolton from a friend. My first visit I met Josh who manages the office and then Dr Bolton. I was impressed and felt he was my guy. The procedure was painless. I was bald at the crown area on June 2019. Today I have a full head of hair. Dr Bolton and his staff planted 10,000 babies If you have any questions feel free to contact me....

Jan 21, 2020

I had my procedure about four months ago and the results have already begun to show. The procedure was very comfortable, though I was nervous at first, and I actually fell asleep at one point watching TV. Dr. Bolton, Michael, and the rest of team were very attentive, informative, and straightforward and were happy to answer any questions I had...

Jan 16, 2020

I would highly recommend Dr Bolton if you are suffering from hair loss. Everything from initial discussions with Josh Engoren through to after care and support it is an impeccable service. Both Dr Bolton and Josh were very polite and supportive and made me feel relaxed throughout the whole process. The staff helping with the procedure were all very...

Jan 9, 2020

Everyone is always looking to have Great Hair. Great Hair Transplants, definitely is the place to put to the top of your list. Hands Down!! I did an extensive amount of research and came to the conclusion Dr. Bolton's office was the place for me. If you want to talk about being nervous, and scared, my wheels were turning. After Speaking with Mike...


22 YEARS EXCLUSIVELY DEDICATED TO HAIR TRANSPLANTS WITH UNSURPASSED RESULTS
Excellent