Doctor For Extreme Hair Loss Problem In Baltimore, Maryland
Rogaine is ONLY for the Crown Area
As of today, Rogaine is the only topical brand of medication FDA approved to be used to regrow hair in both men and women. Most people are familiar with the product name due to over 20 years of globally recognized results being broadcasted in many countries around the world. It is most specifically used for the prevention and reversal of hereditary hair loss in the crown area only. With recent studies showing 85% of men showing hair regrowth after 4 months of Rogaine foam use, this product will likely be used world-wide for many more years.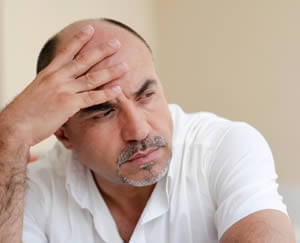 Rogaine will not help those with a receding hairline or more serious hair loss.
What ingredient in Rogaine helps with the treatment receding hairline process?
The active ingredient in Rogaine is Minoxidil, which works to revitalize follicles and stimulate hair growth in the crown area. The capabilities of Minoxidil weren't fully realized until the 1980s when scientists were actually studying it for other purposes. When it showed signs of regrowing hair, it became a worldwide phenomenon.
Who is the ideal Rogaine patient who is seeking treatment receding hairline products?
Patients who have family members who have also experienced hair loss in the crown area only.
Patients who begin to notice more excessive hair loss in the shower, while sleeping or while brushing their hair.
Patients who notice the crown of the head or scalp is more visible.
Patients who are trying to cover up hair loss in their crown area with a hair piece or new hairstyle.
How do you use Rogaine for the treatment of receding hairlines?
The newest formula from Rogaine is their Rogaine Foam product. This new formula makes the application process extremely easy. Each morning, the patient should part the hair into one or more rows (maximizing the exposure of the scalp). They then should rinse their hands with cold water and dry them. Next, the patient should hold the can of foam upside down and using the nozzle, dispense a half-filled cap full of foam on their fingers. With their fingers, the patient can then spread the foam over the thinning hair areas, massage it into the scalp areas and wash their hands. In the evening, the process should be repeated. Rogaine is also sold in liquid form, in regular strength and in extra strength versions.
For more information on treatment receding hairline products like Rogaine or hair transplant options, Dr. Bolton's staff would be happy to assist you.

Rogaine Has No Effect on a Frontal Receding Hairline
ONLY A HAIR TRANSPLANT CAN PERMANENTLY RESTORE HAIR LOSS
IN THE FRONTAL HAIRLINE.
See examples of Permanent Hair Restoration
If you have a receding hairline then Rogaine is NOT going to be the right solution for you. Rogaine is only effective in the crown area and will not prevent hair loss in the frontal hairline which is really the most devistating and appearance altering hair loss condition a person can have.
A hair transplant is a one day solution that will restore your hair permanently and last a lifetime.
Rogaine Has Unpleasant Side Effects
The down side of Rogaine is that it has many negative side effects which discourages people from using this product long term. Some of the side effects include:
Itchiness
Dandruff
Greasiness
Hair Shedding
Chest Pain
If You Have Hair loss that can not be prevented with Rogaine, contact us today for a free consultation!
COMPILATION GALLERY VIDEOS
Jul 3, 2020

My experience with Dr Bolton and Josh has been amazing. I came to Dr Bolton as a very skeptical patient. After years of been scammed by one company after another promising that they "had the cure", I honestly didn't think anything would work. Dr Bolton and Josh were very upfront and honest with me from the very beginning. The surgery and...

Jul 3, 2020

I loved my experience with GHT! I got the (FUT) "Max Harvest Plus" because I was a (Norwood 6). I am completely blown away by the results which changed my appearance and gave me more confidence. Dr. Bolton, Josh, and the entire GHT team are very friendly and professional. There was no pain during the procedure and the whole thing was over...

Jul 3, 2020

Jul 3, 2020

Had my procedure done about 8 months ago with dr bolton and his staff. Absolutely INCREDIBLE results. They are true artists and place every hair with a purpose. My results look so natural that my own mother and father didnt even notice! I would HIGHLY recommend these guys to anyone who is unsure about getting a transplant. True proffessionals,...

Jul 3, 2020

My experience with Josh, Dr. Bolton and his whole team were amazing. I had a max harvest about a year and a half ago and I am so thrilled with the results. Recovery was easy and the hair just grew. Even after the surgery , Dr Bolton called me to make sure everything was fine. I would highly recommend Dr Bolton to anyone who is considering a hair...

Mar 16, 2020

I almost considered going to a locally renowned HT Dr since Florida is many states away and I didn't want to fly and sit in a hotel for a few days post op, but after speaking with Josh and FaceTiming with Dr Bolton I felt more comfortable and informed vs my in person visits with the local option. I now have had two procedures with Dr Bolton and...

Mar 5, 2020

To Dr. Brett Bolton, his technicians, and Mike Anticoli.. Thankyou for all you do. firstly, many years ago i had a prior temple area procedure done in chicago. circa 2000. it was dissapointing to say the least, poor aesthetic result... well, after intensive research i found GHT. Mike Anticoli was my rock through the decision process. he even made...

Feb 23, 2020

Dr. Bolton did an amazing job! I did my research and found Dr. Bolton and am so glad I did. I have had 2 procedures done by him. The first restored my hairline and the second I wanted for more density. Thank you Dr. Bolton! Also thank you to Mike Anticoli for his help throughout the entire process. He stayed in touch with me before and after my...


22 YEARS EXCLUSIVELY DEDICATED TO HAIR TRANSPLANTS WITH UNSURPASSED RESULTS
Excellent