What Are Hair Plugs?
One of the pioneers of hair transplantation is Dr. Norman Orentriech who is remembered for discovering donor dominance in 1952. He used a punch biopsy instrument to harvest large circular 4-mm grafts which were then transplanted into punch graft sites in the patient's balding areas. Although this pioneering surgery advanced hair restoration, the results were less than natural looking.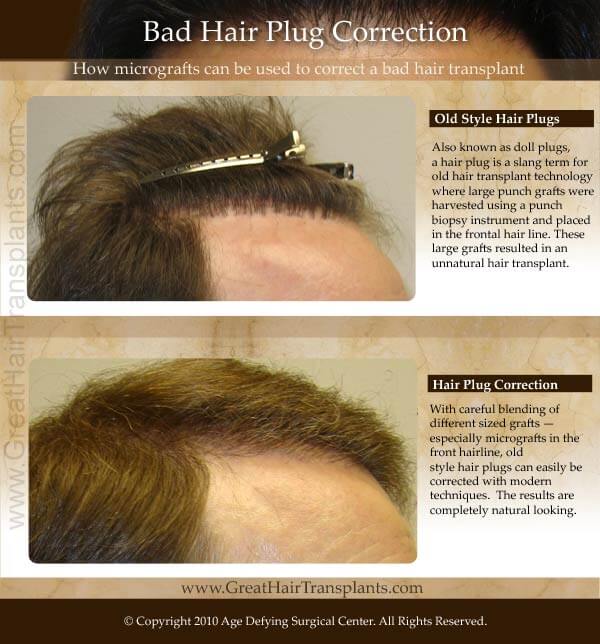 Punch grafts proved to be too large and symmetrical to have a natural appearance. These punch grafts contained anywhere from 8 to 20 hairs. When placed to tightly together, these competing grafts had a tendency to fail because of insufficient blood supply. Placed too far apart meant that they could resemble artificial looking "doll plugs" especially in the frontal hair line.
In the late 90's, doctors began to experiment with micrografts (1 hair grafts) and follicular unit grafts (1-4 hair grafts) which ushered in the natural looking hair transplant. These 'slit' grafts were not harvested with a punch biopsy instrument. Instead, they were obtained from a single donor strip of tissue taken from the safe zone in the back of the head and separated under magnification. This improved the health of the delicate hair follicles. The small number of hairs in each slit graft insured naturalness.
As this new technology immerged, the technique of using large punch grafts became antiquated and unacceptable as a form of hair transplantation. During the late 90's as the world of hair transplantation was changing dramatically, Dr. Bolton had a unique opportunity to observe and correct a high volume of bad hair transplants such as old style plugs, punch grafts and flap surgeries. Being a progressive new surgeon, Dr. Bolton used the latest FUT techniques to transform bad hair plug transplants into natural looking beautiful results. On the flip side, Dr. Bolton was insightful enough to glean concepts from some of the pioneering surgeons who made the best of old techniques like the late Dr. Contantine Chambers. Dr. Chambers did wonders with large sized grafts in the crown area. Because of the technique, these large plugs placed at just the right distance apart looked completely natural in the back of the head. As a result, Dr. Bolton came to the conclusion that using follicular unit transplantation exclusively would not be in the best interest of the patient because the results were too wispy and thin. He began to focus on the concept of using a larger graft strategically behind the hairline in combination with follicular units and micrografts. He continued to experiment and refine techniques until finally he co-developed Multi-Unit Hair Grafting™ for PAI Medical Group in his Tennessee office.
Dr. Bolton Blazed a New Trail that would Change His Practice Forever
"If it looks completely natural, and boosts density by two to three times, why wouldn't I use all my options to give the patient a better result?", said Dr. Bolton. He would call this new graft a "a multiple follicular unit". A multi-unit graft is a new style 'slit' graft that contains 2 or 3 naturally occurring follicular unit bundles which typically contain 4-8 hairs. This graft is not punched out with a punch biopsy instrument but instead is separated under magnification just as it's smaller counterpart, the follicular unit graft. Sometimes mislabeled as 'hair plugs' from skeptical peers, multiple follicular unit grafts are discounted because competing doctors are unfamiliar with this technique and resistant to change despite the evidence that it means a better result for the patient. When used correctly behind the frontal hairline, multiple follicular unit grafts combined with traditional follicular units and micrografts can boost hair density by 2-3 times while looking undetectably natural in appearance. The other benefit to patients is that more hair means less surgeries and a lower cost.
It's been nearly a decade now since Dr. Bolton blazed a new trail. You be the judge and look at some of our hair transplant video testimonials and before and after pictures to see for yourself.