Hair Loss Specialist For Men And Women In Daytona Beach, Florida
Norwood Scale
3a-3 Vertex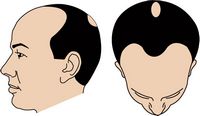 Norwood Scale Class 3a
Receding hair in the frontal temporal area and the initial stage of baldness in the crown area.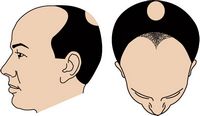 Norwood Scale Class 3 Vertex
More pronounced hair loss in the frontal temporal and crown area.

Diagnosis:
Norwood Scale Class 3a-3 represents hair loss in the frontal hairline and vertex area. This classification also includes early hair loss in the crown area.
Please note: Every patient is different. Therefore, every surgical hair transplant will be different to match your needs! We encourage you to meet with Dr. Bolton for a free no obligation consultation to determine your current hair loss situation.
Solution:
For those who are losing hair in the frontal hairline and the vertex area as well as the crown, a moderate hair transplant (3500 - 4300 hairs) is highly recommended. Restoring the frontal hairline helps to frame the face, and filling in the vertex helps to restore density and volume. This and can greatly improve your overall appearance while increasing your self confidence.
Preventative:
The laser comb is also effective for hair loss prevention.
Click to view closeup of Norwood Scale Chart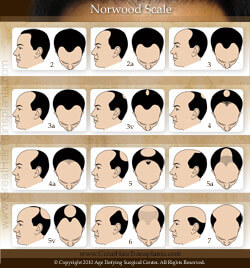 COMPILATION GALLERY VIDEOS
Dec 10, 2019

I had an FUE hair transplant from one of those overpriced hair transplant places, I was very unsatisfied with the results that I was left with. Then I met Doctor Bolton! And after 1 transplant I had hair again! The scar was so minimal that it could barley be seen even with short hair. I only wish that I had gone to him first, I could have saved...

Dec 10, 2019

I had been watching Dr Bolton's videos on Youtube and also on the Great Hair Transplants website for a few years. The procedure videos, before and after photos as well as the many testimonials of his other patients were so incredible to watch, I knew immediately that this was the doctor for me. I contacted Dr. Bolton's office and spoke to his...

Dec 10, 2019

Dr. Bolton and his staff including Josh Engoren are amazing. In my mind there is simply no other alternative out there for hair transplantation. Dr. Bolton uses his own specialized technique that he pioneered himself in moving hair. His specialized grafts are called Bolton bundles. These are larger slit grafts that you can't find anywhere else. In...

Dec 9, 2019

I had a great experience with Dr. Bolton. I've been a hairdresser for many years, and I have worked with the best people in the industry. After years of research I found Dr. Bolton. Who gave me a hair transplant, and I cannot tell you how much he's changed my life. He has made me look ten years younger. He is the best Dr. in the industry, if...

Dec 6, 2019

Excellent results! In my first procedure I had an amazing outcome. I feel more confident and comfortable with my self. My friends and family think so too! For years I've been suffered because I didn't have hair and had a very low self esteem but thanks to Dr. Bolton and Michael Anticoli I've felt so much better. I'm super excited to go for my...

Dec 6, 2019

I went to Dr Bolton after getting 1800 fue and absolutely no results almost ready to give up I contacted Michael Anticoli who works with Doc and decided to get a max harvest from Dr Bolton Michael made my experience in Florida great and Doctor Bolton did a beautiful transplant on my crown and now I can walk out of a room confident of my results...

Dec 6, 2019

Dec 6, 2019

Its been over a year since visiting Dr Bolton and I cannot say enough good things about the experience with Great Hair Transplants. From start to finish the experience was 5 star. Mike is the guide version of Dr Bolton. He has the same attention to detail. Mike ensures everything is taken care. It felt like a pampered at a day at the spa rather...


22 YEARS EXCLUSIVELY DEDICATED TO HAIR TRANSPLANTS WITH UNSURPASSED RESULTS
Excellent